The Tokyo 2020 Olympics: Live updates – CNN
9 hr 12 min ago
USA Gymnastics: Simone Biles "will be assessed daily" for clearance on future competitions
Simone Biles will be assessed daily to get medical clearance for future competitions, USA Gymnastics said in a tweet after Biles withdrew from the women's team gymnastics event.
USA Gymnastics confirmed in a statement on Tuesday that Biles' withdrawal from the gymnastics team event competition was due to a "medical issue."
9 hr 15 min ago
Biles is supporting USA from the sidelines
From CNN's George Ramsay at the Ariake Gymnastics Centre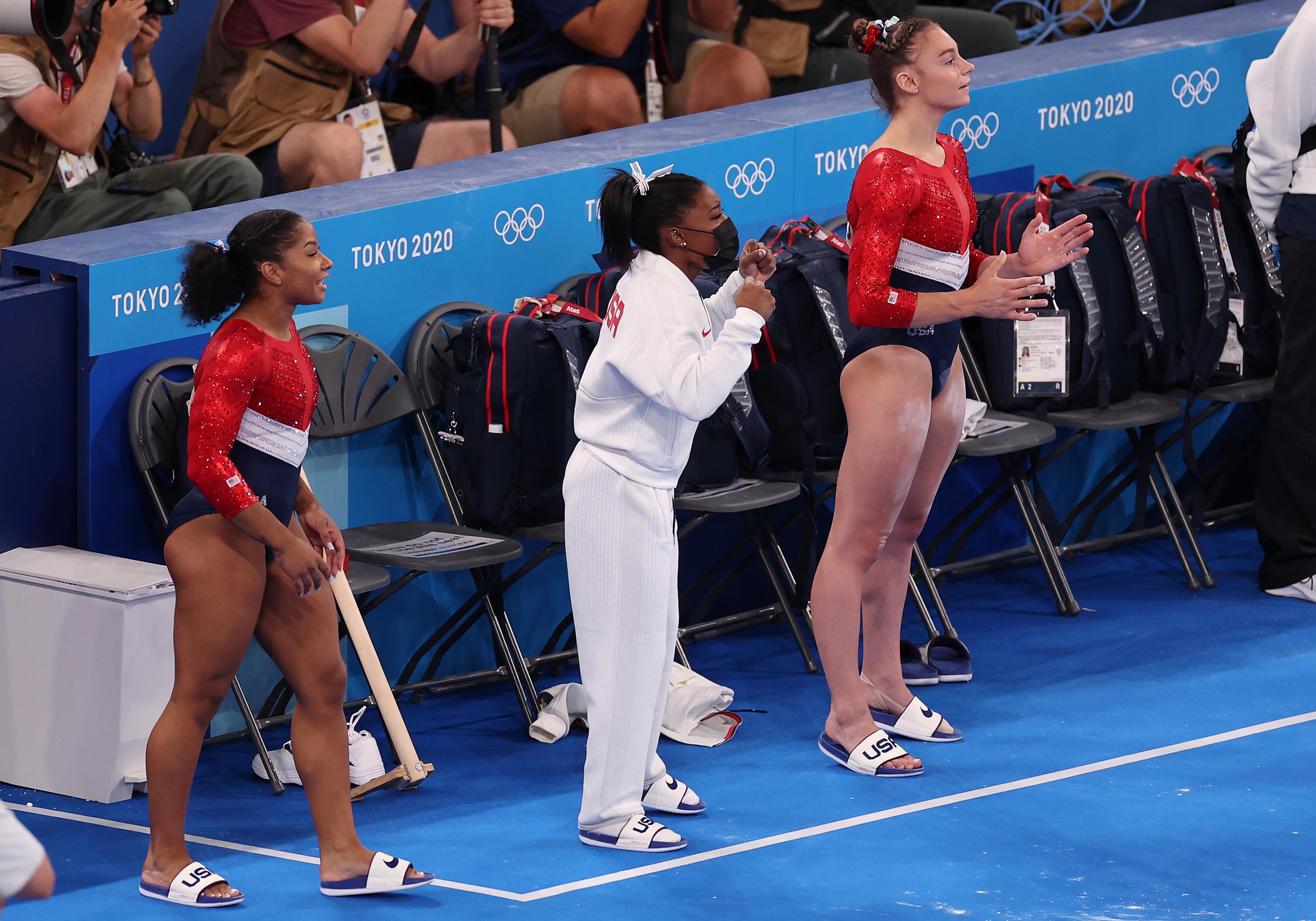 Since being attended to by a trainer, Simone Biles has returned to the arena and has been supporting her teammates from the sidelines — chatting with them and cheering after each routine.
Sunisa Lee got a big hug from Biles and the rest of the team as she completed her beam routine and scored 14.133.
We're now on the third rotation of this women's team final and USA trails the Russian Olympic Committee.
9 hr 17 min ago
CNN analyst: "Worst nightmare coming to pass here" as Simone Biles out from gymnastics team finals
US gymnast Simone Biles withdrawing from the Olympic women's gymnastics team event is like the "worst nightmare coming to pass here," CNN sports analyst Christine Brennan says.
"Simone, on the first event of the first rotation of the team competition tonight, about a half hour ago, she bailed out of her vault," Brennan explained.
Biles withdrew from the women's team final after she left the field to be attended to by the trainer. She came back with a heavily strapped foot, but did not warm up for uneven bars — USA's second apparatus.
It is unclear if Biles is injured and what her possible injury could be, Brennan added.
Meanwhile, the competition goes on and Jordan Chiles is competing instead of Biles.
It is yet to be determined "whether or not Simone Biles can continue in the Olympic Games. I cannot believe I just said that sentence," Brennan said.
Biles is "by far the biggest name worldwide, not just in the United States," she said, adding that the news of her withdrawal is huge and stunning.
"Incredibly sad news for the millions of Simone Biles fans, and of course for Simone herself" as she's trying to win gold medals for herself individually and for Team USA as well, Brennan added.
Watch:
9 hr 40 min ago
Simone Biles is out of women's gymnastics team finals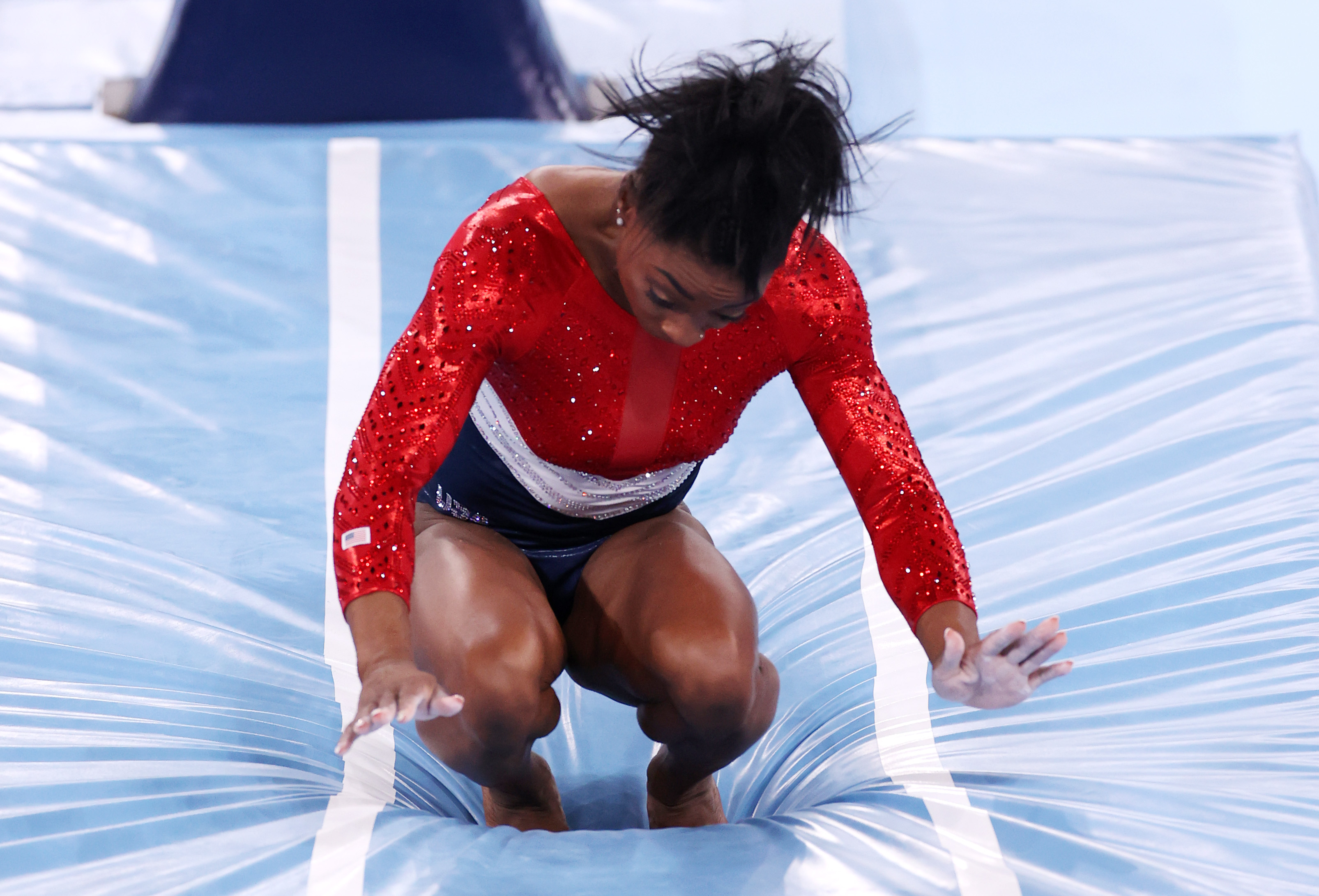 Simone Biles has withdrawn from the women's gymnastics team event, USOPC has confirmed to CNN.
She withdrew from the women's team final after she left the field to be attended to by the trainer. She came back with a heavily strapped foot, but did not warm up for uneven bars — USA's second apparatus.
Instead, Jordan Chiles is warming up.
A CNN team in attendance at the event saw Biles sitting on the sidelines in a tracksuit with her foot in strapping.
Biles was looking to add to her haul of four gold medals won at the 2016 Rio Olympics.
9 hr 50 min ago
The gymnastics event has "the most charged atmosphere" at the Olympics by far, CNN reporters say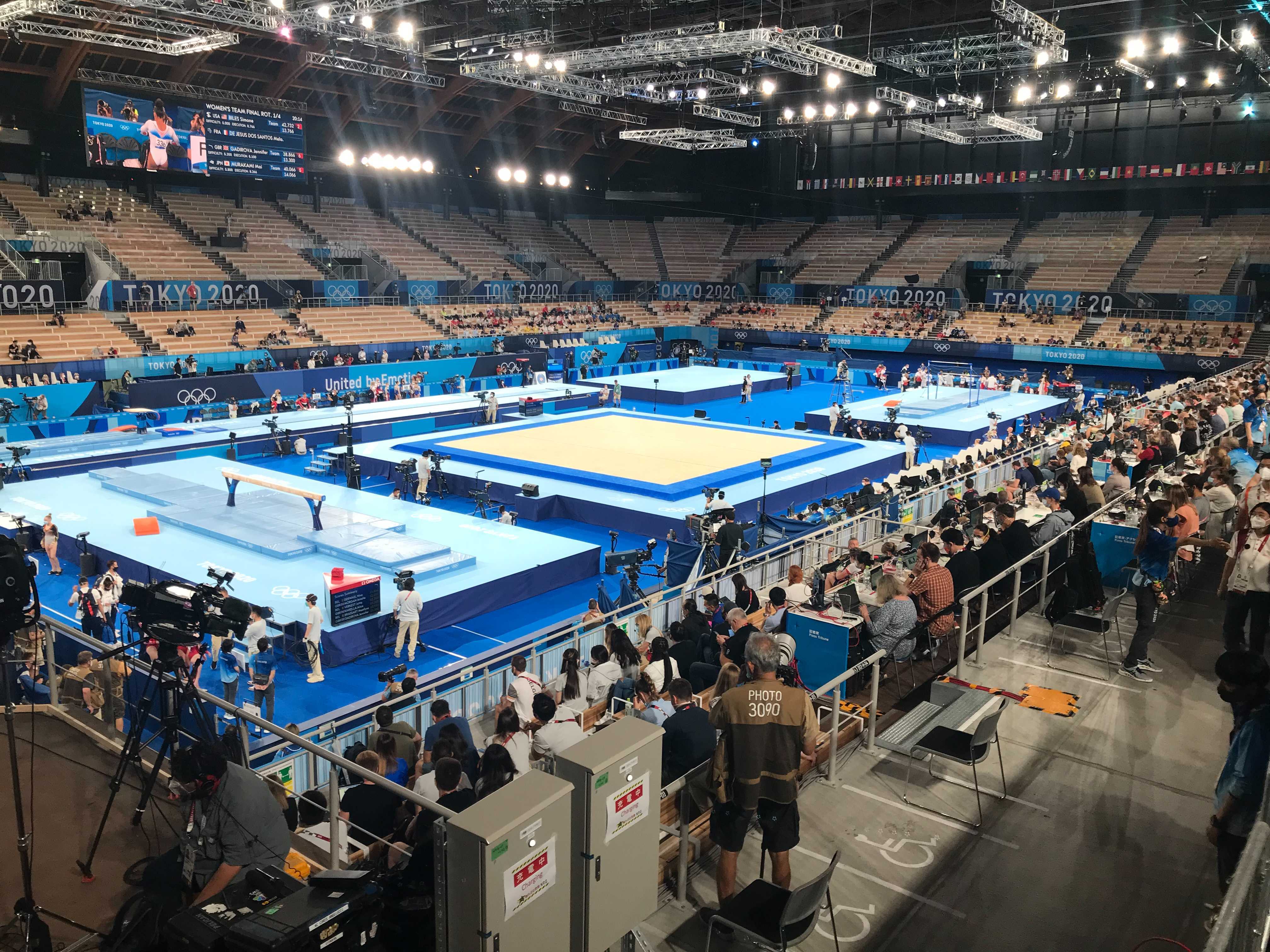 The Olympic women's artistic gymnastics event is one of the busiest events so far, with the seated press gallery very full, according to CNN's George Ramsay.
There also seems to be a few non-competing athletes in the stands, as has been the case at other events, he adds.
This is the "most charged atmosphere I've seen at this Olympics so far," CNN's Amy Jordan reports. "Press area is full. It feels like a more normal event."
Team USA trails ROC after the first rotation.
10 hr 5 min ago
Olympic gymnastics team final with Simone Biles gets underway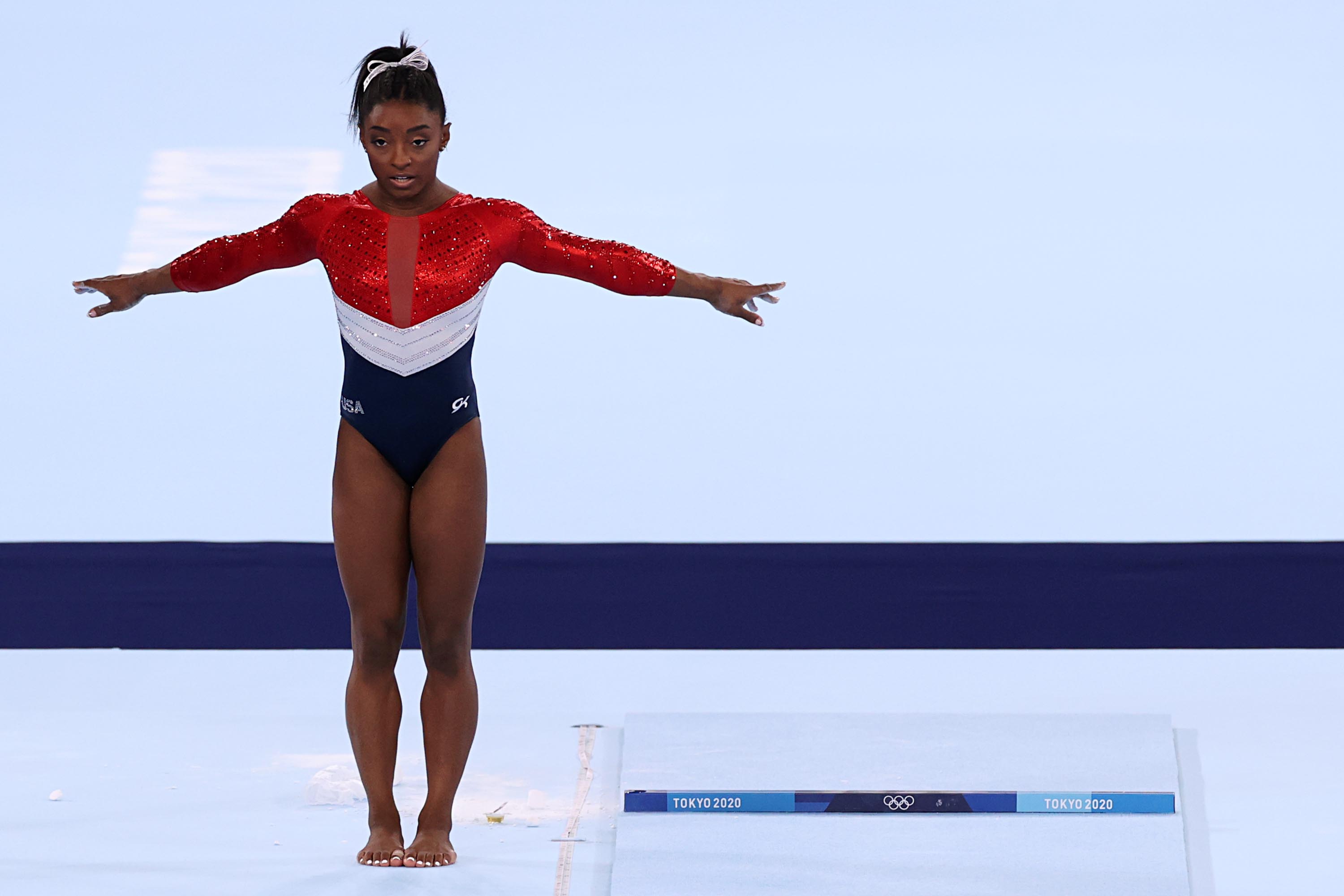 The Olympic women's gymnastics are underway, with Simone Biles and the American athletes looking to defend their crown at the Ariake Gymnastics Centre in Tokyo.
10 hr 30 min ago
Heart rate of archers monitored during day of shocks in competition
Having nerves of steel is a trait Olympic athletes have to master.
And for the first time at an Olympics, TV viewers were given a glimpse of just how stressful — or not — elite competition can be during the archery event at Tokyo 2020.
World Archery incorporated biometric data into the television broadcast with cameras picking up the competitors' heart rates (BPM), despite inclement weather causing technical problems on site early on.
The archery competition delivered one of the shocks of this Olympics, as No. 1 seed Kim Je Deok was knocked out of contention for his third gold medal of the Summer Games.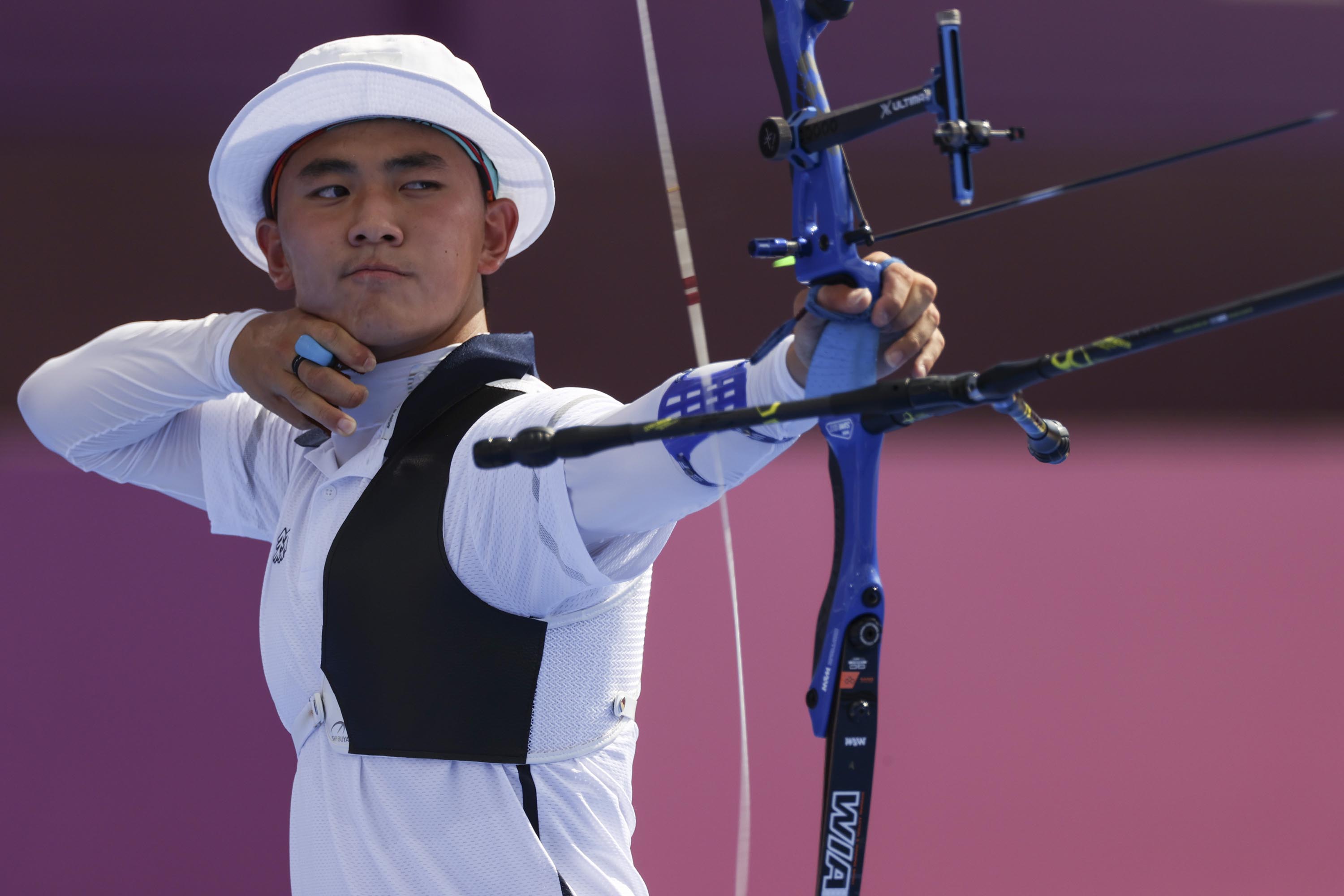 In a day that was effected by the adverse weather conditions, Kim was beaten 7-3 by Florian Unruh of Germany.
"I will have lots of opportunities in the future," the South Korean said afterwards. "I don't feel so bad. I will have another chance."
Kim has already won gold in the mixed team and men's team events at Tokyo 2020.
10 hr 37 min ago
Olympic surfer Carissa Moore had to learn to "trust myself without my family here" to win gold
Before she won the gold, surfer Carissa Moore said she experienced a "rollercoaster of emotions" after arriving in Japan for the Tokyo Olympics without her family.
"It's been a crazy couple of days … just trying to figure out the break, find my rhythm, learning how to trust myself without my family here," said the 28-year-old America after her win on Tuesday.
According to the four-time world champion and world No.1 the gold medal is "quite heavy."
"I'm very proud and honored," added Moore. "I feel super blessed, super fortunate. It's been an incredible experience."
Moore was born in Oahu, Hawai and it was a Hawaiian — Duke Kahanamoku — who was key to introducing surfing to the world.
A talented athlete, Kahanamoku was the first swimmer to win the Olympic 100m freestyle twice in a row after victory at the Antwerp 1920 Games,
"This was his dream, to have surfing in the Olympics. I hope I made him and my people proud," said Moore of Kahanamoku.
The 28-year-old said she wished that the people who supported her on her surfing journey were with her.
"I wouldn't be where I'm today without you guys. I can't wait to come home and celebrate. Thank you for staying up and cheering for me. It's not only my friends and family, I have friends and family all over the world. I love you guys," she said.
11 hr 38 min ago
Let's go back and try again: How surfer Italo Ferreira won gold after his board broke on his first wave
The match that got Brazil's Italo Ferreira the inaugural gold medal in Olympic surfing began with his "good board" breaking on his first wave.
"That board gives me good speed, the other one is more slow," he said. "It's super hard out there, but I knew that there was a lot of opportunities around. That's why I started to catch a lot of waves and get scores."
And finally, it was all about getting back up.
"I was super confident. When I broke a board, I was like, 'let's get on the beach and get another board, go back and try again'. And that's what I did," he said.
The reigning World Surf League champion described the winning moment as "one of the best days of my life for sure."
"I was so nervous at the beginning, but I just tried to surf and have fun. Because two months ago, I was busy with training and thinking and dreaming, and now I've got the gold medal."
"The dream came true," he added.