Projecting Miami's two-deep depth chart for the start of fall camp – 247Sports
Football season is right around the corner. 
ACC Kickoff Media days was held last week and that was the first sign of football season coming soon. 
The next date to know for Miami Hurricanes football fans: the start of preseason practices on August 6th. 
This article looks to project what UM's two-deep depth chart figures to look like at the start of fall camp, which is only the starting point in terms of shaping the roster for the season opener against Alabama. 
Miami returns 19 of 22 starters from the 2020 season, so the Hurricanes figure to take the field for the first practices with plenty of veterans all over the two-deep. 
At the same time, it is fair to point out that Miami also features plenty of young talent from last year's freshman class that is now poised to push for bigger roles, along with a current freshman class that features a couple of former five-star recruits in defensive tackle Leonard Taylor and defensive back James Williams. 
The mix of veteran leadership and production along with the talented young players makes the Hurricanes an interesting team to keep an eye on in 2021.
"What's been great from Miami's standpoint is having such an experienced team, some of the guys we brought with us here today for Media Day, is the off-season," UM coach Manny Diaz said this week. "How do we go through spring practice, through the workouts. Guys that are experienced but they came back for the right reasons, they want to see Miami win, and they want to set an example for the younger guys coming into our program which to me at Miami we've not always had. We've not always had really strong, veteran leadership that's been around long enough to influence or recruiting classes.
"I think with the senior class, the super senior class that we have, they can help not just transform Miami wins and losses this year but actually going forward."
That leadership and competition will be key for Miami's preparation for the September 5th match-up against Alabama in Atlanta, Georgia at Mercedes-Benz Stadium. 
According to the latest betting lines from the William Hill Sportsbook, Miami is an 18 point underdog to the Crimson Tide. 
Read on for a look at how we project the two-deep depth chart to look at the start of fall camp based on how spring football wrapped up, offseason intel that has been picked up during the summer, and the latest injury situations.
Note: Again, just to make clear, this is a projected depth chart for the start of fall camp. Not a projected depth chart for game one against Alabama.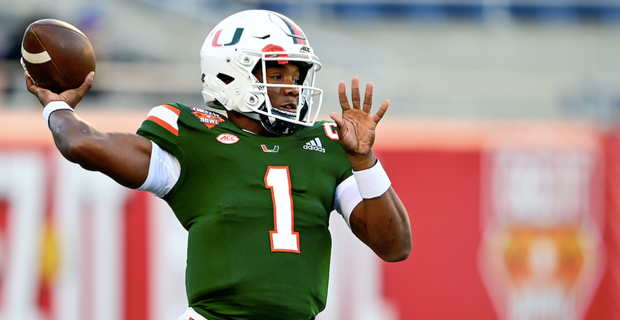 1. D'Eriq King
2. Tyler Van Dyke
Outlook: There really isn't much debate here. King is one of the best quarterbacks in the country entering this 2021 season while Van Dyke finished the spring as the top back-up after a strong performance in the offseason. While the depth chart is pretty straight forward going into fall camp, there is a significant question with the position that centers around the health of King's knee. All indications are that King will be a full go for the start of fall camp on August 6th, but it will be worth monitoring how King's knee responds to the rigors of preseason camp. 
Player not listed to keep an eye on: True freshman Jake Garcia is talented enough to be listed as an 'or' with Van Dyke, but at this point we have to give the nod to the slightly more experienced second-year freshman. Garcia flashed plenty of talent during the month of spring football, including the natural ability to push the ball downfield and stretch a defense. Garcia and Van Dyke will battle it out for the starting job in 2022–and that battle starts during fall camp because EVERYTHING matters at the quarterback position. Which young quarterback will make the strongest case for the 2022 job during fall camp?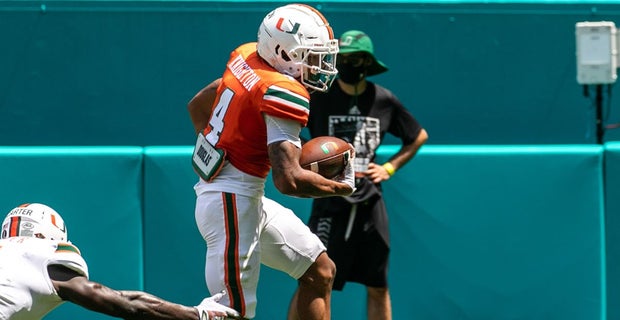 1. Cam'Ron Harris
2. Jaylan Knighton
Outlook: We project the proven veteran, Cam Harris, to start preseason practices as the lead running back. It is Harris' job to lose, but there will be plenty of young talent pushing for playing time. We gave Knighton the nod over Don Chaney for the number two spot to open preseason practices because Chaney was shut down during the spring due to offseason shoulder surgery. While all indications are that Chaney will be available for the start of fall camp, we could see him getting eased back into things while coming off surgery. Knighton flashed his explosive playmaking ability with a touchdown run of close to 20 yards in the spring game. 
Player not listed to keep an eye on: If we are talking pure talent and upside, Don Chaney Jr. would be the pick for this roster. Chaney has a sturdy build at 208 pounds and sprinter speed to break long touchdown runs if he has a crease. Before he was shut down during the month of spring football, Chaney was making a very strong case to be UM's starter in 2021. If the shoulder issues are behind him, it wouldn't be surprising at all to see Chaney earn the start against Alabama in game one of the season.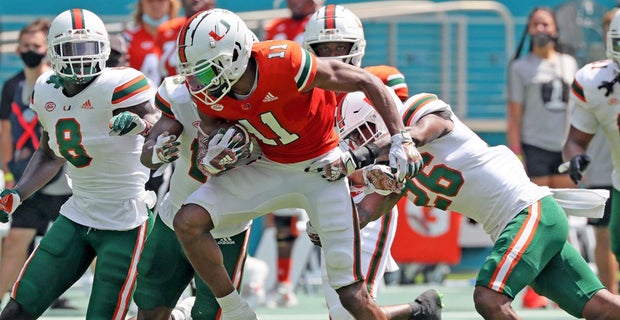 Outside Receiver: Charleston Rambo, Mark Pope
Outside Receiver: Keyshawn Smith, Dee Wiggins
Slot Receiver: Mike Harley, Xavier Restrepo
Outlook: It is safe to say these six receivers have the best chance at earning significant roles in 2021. Harley, Pope, and Wiggins were the top three receivers from the 2020 season while Charleston Rambo is a transfer from Oklahoma that figures to be a starter. After an impressive showing during the month of spring football, second-year freshmen Keyshawn Smith and Xavier Restrepo are expected to push for time in the playing rotation as well. The Hurricanes will be looking for more consistency from the outside receiver positions and there will be plenty of competition to try and find playmakers. 
Player not listed to keep an eye on: We will highlight two freshmen here. Romello Brinson is a smooth outside receiver that flashed the ability to make contested catches at the high school level while Brashard Smith is a sturdy slot receiver that was arguably the fastest recruit in the country for the 2021 cycle. It is going to be tough for either one of these newcomers to crack the playing rotation, but they have the talent to make a move if the veterans don't step up.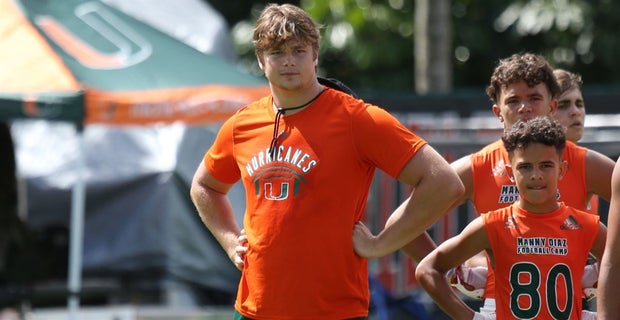 1. Will Mallory
2. Kahlil Brantley
Outlook: This is a difficult position to project outside of Mallory, who is the unquestioned top tight end. We went with Brantley at the start of fall camp simply because Elijah Arroyo is working his way back from a knee issue (though is expected to be healthy for camp) and Larry Hodges will probably have to earn his way up the depth chart after a hiatus from the team due to an off-field incident. Dominic Mammarelli is probably who we would have projected to be the second tight end here, but he is working his way back from offseason shoulder surgery. 
Player not listed to keep an eye on: Elijah Arroyo has the talent to be Miami's next great tight end in the future. Arroyo was an early enrollee during the spring semester but had a procedure done to clean up his knee from a high school injury. It will be interesting to see if Arroyo can find a way to crack the playing rotation at some point during the 2021 season.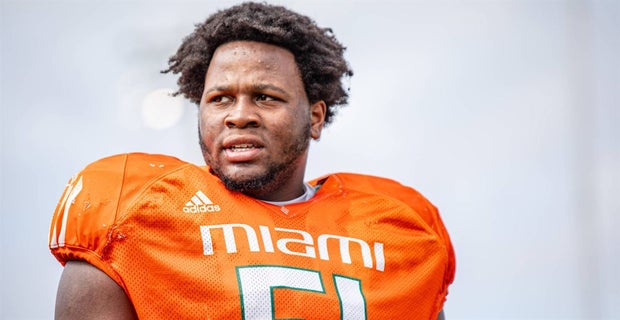 Left Tackle: Zion Nelson, John Campbell
Left Guard: Jalen Rivers, Justice Oluwaesun
Center: Corey Gaynor, Cleveland Reed
Right Guard: Navaughn Donaldson, Ousman Traore
Right Tackle: DJ Scaife, Jarrid Williams
Outlook: We project this starting line to begin fall camp because that is how UM finished the month of spring football, except Jakai Clark was the starting left guard, but he will be limited to start the season as he works his way back to health from a car accident. The Scaife vs. Williams battle will be one to watch during the course of camp. Williams was the starting right tackle for the Hurricanes in 2020, but the feeling after the month of spring football was that Scaife had a better showing during the offseason. The next position to watch is left guard and whether or not UNLV transfer Justice Oluwaesun can push for a starting job. 
Player not listed to keep an eye on: Jakai Clark is the player to highlight here because he is a two-year starter at guard. Clark is also projected to be the next starting center for the Hurricanes once Gaynor's time at UM is done.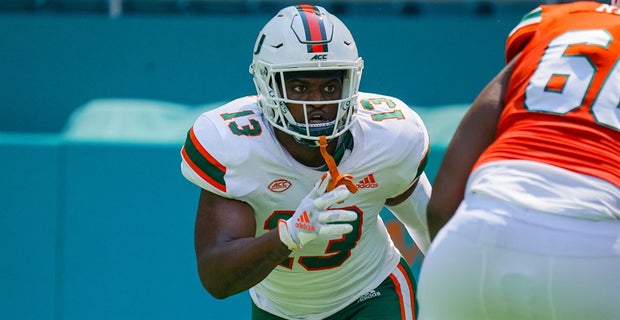 Defensive End: Deandre Johnson, Zach McCloud
Defensive Tackle: Nesta Jade Silvera, Jared Harrison-Hunte
Defensive Tackle: Jon Ford, Jordan Miller
Defensive End: Jahfari Harvey, Chantz Williams
Outlook: At the edge rushing spot, we view Johnson and Harvey above the rest of the group from a talent and experience perspective. McCloud will be a veteran that will contribute in a role in which he sees the field for about 20 snaps per game. People around the program believe Chantz Williams has taken a step forward this offseason and is ready to potentially crack the playing rotation. The defensive tackle spot could get dramatically shaken up during the course of fall camp, but to start preseason practices we will project veterans, Ford and Silvera, as the starters. Harrison-Hunte has everyone around the UM program excited and Miller is well respected for his run stopping potential. 
Player not listed to keep an eye on: It is extremely rare for a freshman to make an impact at the line of scrimmage positions, but former five-star recruit Leonard Taylor is a special talent that could emerge as an impact player. Taylor is the most gifted defensive tackle on Miami's roster, but does he have the strength and technique that is necessary to compete at the college level as a true freshman? Preseason camp will be very telling.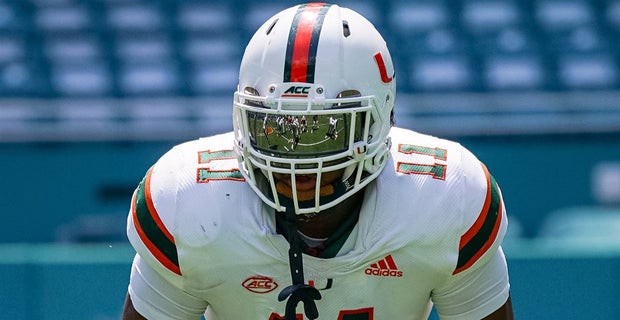 Weak-side Linebacker: Keontra Smith, Waynmon Steed
Middle Linebacker: Corey Flagg, BJ Jennings
Striker: Gilbert Frierson, Amari Carter
Outlook: The weak-side linebacker position is tough to project, so we will go with Smith, who moved from striker and Steed, who is a veteran that has dealt with injuries, but played toward the end of the 2020 season. Sam Brooks would factor into this position group, but his status is a bit up in the air as he recovers from a toe issue. Avery Huff, who has intriguing physical traits, could also be a factor if it all comes together during the preseason practices. The middle linebacker spot is going to be a competition to monitor as well. Jennings is the returning starter, but Flagg flashes instincts at the position that are intriguing. 
Player not listed to keep an eye on: True freshman Chase Smith is a physically gifted player that could play the striker position or weak-side linebacker spot. His sideline-to-sideline speed is impressive and during the spring game, Smith showed a nose for the football while working against the second and third team offenses.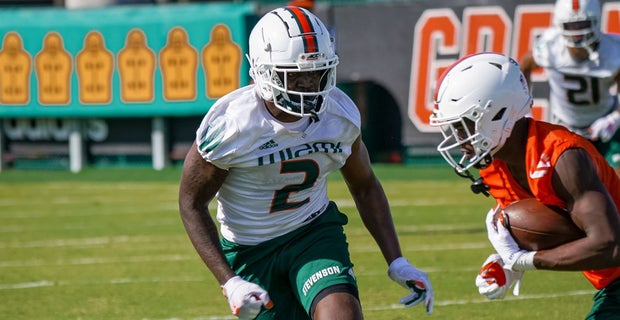 Cornerback: Tyrique Stevenson, Al Blades Jr.
Safety: Gurvan Hall, Brian Balom
Safety: Bubba Bolden, Amari Carter
Cornerback: DJ Ivey, Te'Cory Couch
Nickel: Te'Cory Couch, Marcus Clarke
Outlook: The two-deep in the Miami is pretty strong, even after the dismissal of Avantae Williams. The Hurricanes feature four corners that have played plenty of snaps and have the ability to be good college players if they clean up their technique. The addition of UGA transfer Tyrique Stevenson potentially gives the Hurricanes a clear-cut number one corner. Bubba Bolden has the ability to be one of the best safeties in the country while Gurvan Hall and Amari Carter have been starters for the UM the past two seasons. 
Player not listed to keep an eye on: Freshman James Williams, a former five-star recruit, has impressive physical gifts with his ability to play smooth on the back end at 6-feet-5 and 220 pounds. Playing safety in this defense isn't easy, however, and Williams will need to prove to the UM coaching staff that he understands the system before he gets on the field for significant snaps. It will be worth monitoring the emergence of Williams over the second half of the season, but UM returns plenty of experience, so cracking the rotation won't be easy.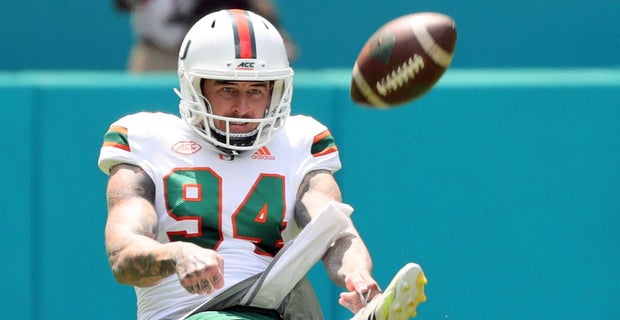 Kicker: Andres Borregales
Punter: Lou Hedley
Kick Return: Jaylan Knighton or Brashard Smith or Malik Curtis
Punt Return: Tyrique Stevenson or Mike Harley or Malik Curtis
Outlook: The specialist duo is set and strong with Hedley one of the top punters in the country and Andres Borregales expected to be one of the best freshman kickers in the country. The return duties are up for grabs, so this is primarily a projection of players we'd like to see in those roles. Miami wasn't very dynamic in the return game in 2020 and that needs to change because UM has too many good athletes to not be productive in that phase. Knighton is in the discussion of being one of the fastest players on the team and he has natural tackle breaking ability as a running back. Smith also has a strong build to go along with elite speed and Curtis was a dynamic returner at the high school level. Stevenson and Harley would figure to be dependable options as punt returners.