Horned Frogs in the News Roundup, May 17-28 – TCU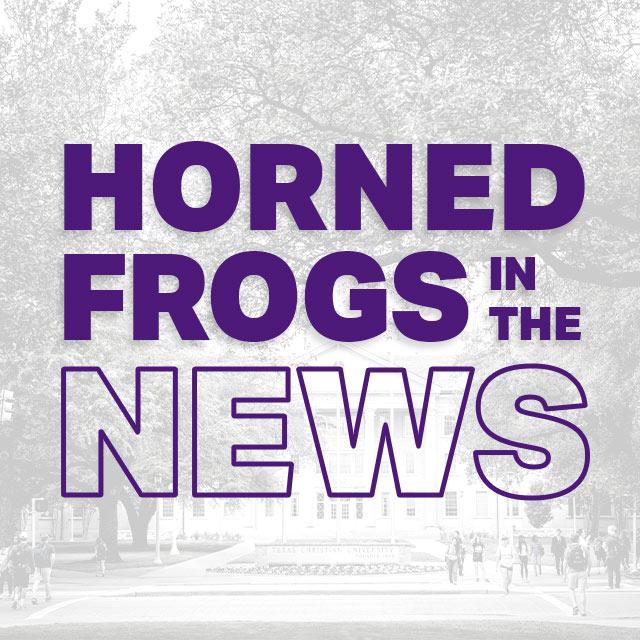 June 1, 2021
From the price of chicken wings to keeping toddlers entertained and helping educators fight COVID-19 fatigue, TCU and its faculty, alumni and students have been featured in the news. Check out the latest roundup of newsworthy Horned Frogs. 
INSTITUTIONAL
5 Best Business Management Training Centers in Fort Worth, TX 
May 28, 2021
kevsbest.com
TCU Ranch Management is uniquely designed to train students to meet the challenges and help shape the future of agricultural resource management. Because the job market for agricultural resource managers is rapidly expanding, there are opportunities in many areas, including commodity investment, agricultural marketing, international trade and ranch management. TCU Ranch Management prepares students to learn the business side of ranching and manage a broad range of global resources on an ecologically and economically sound basis while conserving and improving resources.
Kinaxis BrandVoice: The new governance model for supply chain planning 
May 27, 2021
Forbes
Now that companies have witnessed the differences between historic and modern planning techniques, many are trying to narrow the performance gap – and do it quickly. To start their transformation, they are confronting long-held misconceptions about what's possible. The eBook, The Top 5 Supply Chain Planning Myths: Discover the New Governance Model to Defeat Disruption, covers the biggest misunderstandings about supply chain planning and digital transformation; provides concurrent planning proof points from leading researchers at Supply Chain Insights, IDC and TCU; and offers alternative solutions to traditional transformation processes.
Fort Worth's PianoTexas returns for its 40th season, celebrating the talents of emerging pianists
May 25, 2021
The Dallas Morning News 
After being canceled last year because of the pandemic, the PianoTexas International Festival & Academy will return this summer for its 40th season. Presented by the TCU School of Music and running June 3-30, the program will combine public concerts with training and performance opportunities for young pianists up to age 30, as well as for piano teachers and adult amateurs.
TCU and UNTHSC School of Medicine: Ways educators can fight COVID-19 fatigue during Summer
May 20, 2021
Fort Worth Business Press
TCU and UNTHSC School of Medicine: Educators in K-12 and higher education have reported suffering from chronic stress and the COVID-19 pandemic, which has led to some experiencing burnout.
FACULTY
Now is the perfect time for Black women to find their seat in the C-Suite 
May 27, 2021
Blavity 
"Black women have accomplished so much over the last year," writes L. Michelle Smith, adjunct professor of strategic communication, in a recent opinion piece. "While victorious nevertheless, these successes emerge, despite systemic gender and racial inequities within our society. And the numbers remain scant with Black women only representing less than 1% of top seats in the Fortune 500. Studies indicate that Black women are not only qualified but highly effective as leaders in both the C-Suite and in business. Yet, the data from inside these companies does not reflect this reality."
Robot-only roads face cost and limited benefits 
May 27, 2021
TU Automotive
Some road-weary drivers look forward to the days of greater robotic driving assistance to help regulate the flow of traffic, improve safety and make commutes more relaxing and, perhaps, enjoyable. "I think certain robot only roads are a good idea," asserted Michael Sherrod, the William M. Dickey entrepreneur-in-residence. "[Interstate] 35 in Texas should be robot-only, it's one of the most dangerous roads in Texas, if not the country. It's like the autobahn but with too many cars."
The 2021 CNBC Disruptor 50: How we chose the list of companies 
May 25, 2021
CNBC
Keith Hmieleski, professor of entrepreneurship, was named one of the 2021 CNBC Disruptor 50. All private, independently owned start-up companies founded after Jan. 1, 2006, were eligible to be nominated for the Disruptor 50 list. Companies nominated were required to submit a detailed analysis, including key quantitative and qualitative information.
USA Basketball names TCU coach Jamie Dixon as coach of U19 Team
May 20, 2021
Fort Worth Star-Telegram
TCU men's basketball coach Jamie Dixon was formally named the 2021 USA Basketball Men's U19 World Cup Team head coach. Dixon's assistants will be Stanford coach Jerod Haase and Yale coach James Jones. Dixon coached the team to a gold at the 2009 U19 World Cup, ending the USA's 18-year drought between FIBA U19 World Cup titles.
Your favorite chicken wing special might cost you more these days. Here's why 
May 20, 2021
WFAA-TV
There is reportedly a high demand for chicken wings; some believe the pandemic heightened it. There are other reasons too, said Travis Tokar, assistant professor of supply chain management. "I think there's a few factors at play right now," Tokar said.
Stop Asian Hate leans into legacy of civil rights to spark movement, dismantle racism
May 20, 2021
Kansas City Star 
Scott Kurashige, chair of comparative race and ethnic studies, shared his opinion that Black Lives Matter is a movement with which the Stop Asian Hate movement should stand in solidarity. "The whole idea of doing this work has to begin with the notion of justice for all," Kurashige said. "And how we formulate our organizations and our identities has to begin with this intersectional concept of how oppression works and how social justice can be achieved."
Deal Book: In a position to succeed?
May 19, 2021
The New York Times
JPMorgan Chase announced joint heads of the consumer and community bank, effective immediately. Co-management can be hard to pull off. In a 2012 paper, Ryan Krause of the Neeley School of Business examined how sharing power impacted the performance of public companies. Estimating the relative power of co-CEOs using proxies such as tenure and stock ownership, he and his co-authors concluded that executives who had more equal levels of power performed worse than those with disproportionate power. 
Fort Worth mayor election: Who has real power in the city?
May 17, 2021
Fort Worth Star-Telegram
Even though Mayor Betsy Price is the city's most public-facing politician, City Manager David Cooke is the most powerful person in the city — not that many people likely even realize who Cooke is. "One of the challenges you see here in Fort Worth is for voters to really understand how the system operates," said Emily Farris, an associate professor who specializes in urban politics. "Who's accountable … who's making decisions?"
ALUMNI
Meet the Athletes: Tom Scott 
May 26, 2021
nbcolympics.com 
Before the Tokyo Games, karate athlete Tom Scott '12 was used to watching the Olympics from home. But with karate making its Olympic debut this summer, Scott has hopes to not only represent the United States in Tokyo, but also bring home a gold medal to boot. In preparation for the 2020 Olympic Games in Tokyo, NBC Olympics sent questionnaires to a wide range of athletes to learn more about their lives on and off the field of play.
Why this Dallas brew master is rescuing dogs 
May 25, 2021
D Magazine
Fritz Rahr '89 (MBA '93), founder of Rahr & Sons Brewing Co. in Fort Worth, has always had a heart for dogs. That love was deepened when he met his wife, Tara Harper Rahr. The couple has launched a nonprofit—Rahr to the Rescue—to help find forever homes for their furry friends.
Fort Worth mompreneurs find pandemic success with fun activity kits for kids 
May 24, 2021
CultureMap Fort Worth
Lisa Camp '07 and Katie Price '09 — Fort Worth friends and both mothers of two young children — faced the added predicament last year of keeping toddlers entertained during a global pandemic. This led to their creation of The Little Learning Tub, a box of fun and educational activities that promote learning and exploration for kids ages 3 to 6, and it's now gaining national attention.
Charles Schwab Challenge: TCU's Hoge favorite for Colonial
May 24, 2021
Fort Worth Star-Telegram 
Tom Hoge '11 cracked the top 100 of the world golf rankings earlier this year. He's coming off playing the PGA Championship for the second consecutive year. And now his sights are set on putting together his best showing to date at the Charles Schwab Challenge. Hoge, a TCU product who resides in Fort Worth, feels his game is coming together at the right time to make a run at his adopted hometown's PGA Tour event at Colonial Country Club.
STUDENTS
USA Gymnastics announces participants for May 24 panel on mental health awareness 
May 20, 2021
usagym.org
Jessica Renteria was selected as a panelist for the USA Gymnastics panel on mental health awareness. Renteria is currently pursuing a master's degree in kinesiology with special emphasis in sport and exercise psychology. She competed in acrobatic gymnastics for 11 years as a member of the U.S. Junior and Senior National Teams. Jessica and her partner were the first U.S. senior women's pair to medal at a FIG World Cup event. After retirement, she continued to coach part-time, host athlete clinics and choreograph dance routines for gyms across the U.S. Renteria is currently an elected Acro athlete representative and vice-chair of USA Gymanstics' Athletes' Council and serves on multiple committees with both the Acro program and USA Gymnastics. Recently she was a panelist for the USA Gymnastics Diversity, Equity and Inclusion Panel series back in the Fall 2020.
Chipinda named 2021 Sir Alexander Fleming Scholar 
May 18, 2021
Bartlesville Examiner-Enterprise 
The Oklahoma Medical Research Foundation named Claire Chipinda, biochemistry major, one of 12 Sir Alexander Fleming Scholars for 2021. As a member of OMRF's 65th Fleming class, Chipinda will work for eight weeks alongside Rheal Towner, director of OMRF's Advanced Magnetic Resonance Center who studies new ways to diagnose and predict the outcome of human diseases using non-invasive imaging methods. A panel of scientists chose the class based on their scientific achievements and demonstrated interest in a career in medical research.