City Of Miami District 5 Candidates On The Issues – Patch.com
Oct 19, 2021
The race for the City of Miami District 5 commission seat is heating up, with tiffs over campaign signs and accusations of "misleading" flyers.
In the upcoming Nov. 2 election, incumbent Commissioner Jeffrey Watson will face Francois Jr. Alexandre, Zico Fremont, Michael A. Hepburn, Christine King, Revran Shoshana Lincoln and Stephanie S. Thomas to represents the city's majority-Black neighborhoods. Should a candidate fail to garner 50% or more of the vote, a runoff election will be held two weeks later, on Nov. 16.
The Miami Times developed a brief questionnaire for the candidates to help readers make their choice. It was presented to the three most viable contenders, based on the size of their campaign accounts. Candidates not included have raised virtually no money. The top two fundraisers are King and Watson, with Hepburn a distant third. Below are their answers, which have been edited for clarity.
Each of the candidates ranked the top three most pressing issues in District 5 that demand attention. In order of most pressing, Watson's are low incomes, low educational levels and high cost of living. King's are affordable housing, gun violence reduction and climate change/sea level rise mitigation. Hepburn's are affordable housing, safe sustainable neighborhoods and economic/workforce development.
Here is how they propose to address these issues:
Watson: If elected, the best way to address low incomes is to prepare people for the jobs that exist, the jobs that are coming, and ensuring that the right infrastructure is in place so that people who want to better themselves economically can do so. If elected, I've created a program entitled Prepare to Rise that focuses on young people ages 5 to 24 so that they can get prepared for the new tech industry that is coming to Miami. I've also designed a program to collaborate with the city's building department that allows our high school students to get prepared to work in the construction industry.
King: Affordable housing is my number one issue for District 5. I will expedite the spending of the $100 million allocated for affordable housing that was approved by residents in 2017. To date, the only affordable housing project that has been built in District 5 with these dollars is Residences at MLK Boulevard, with over 100 units of affordable housing. I serve as the co-developer of the project.
Hepburn: Paying more than 50% of your disposable income to cover housing costs in Miami is absurd. So, we will hold Mayor Suarez and our city government accountable to rehab, preserve and develop 12,000 units of affordable housing by creating mutually beneficial developments that work for both our communities and developers to create low-income rentals, including workforce housing and rent-to-own mixed-use apartments units; increasing funding for our Senior Rental Assistance Program; investing in homeownership preservation initiatives to assist with exterior and interior repairs and also weatherization improvements to help homeowners stay in their homes; utilizing city-owned land to develop high-quality affordable housing projects; and funding new innovative community land trust concepts to build new developments and to keep our current subsidized housing units affordable for years to come.
Additionally, we asked the candidates to explain how they differ from others who have previously held the seat, and why that makes them the best choice at this time:
Watson: I am not so sure about any candidate that has ever held the position or any of the officeholders that preceded me. But I can say this: For 35 years I have been a student of the City of Miami and the government. Not only enough to provide experience and leadership for today, but my past historical experiences with Miami allow me to provide forward-thinking solutions to the challenges that District 5 residents face and will face in the near-term future.
King: First, I would be the only female attorney to serve as the District 5 Commissioner. Secondly, my 30 years of experience as an advocate differentiates me from other candidates, as I have served the community as a county employee with Community Action Agency, the president and CEO of the MLKEDC (Martin Luther King Economic Development Corporation), and as a practicing attorney in good standing for more than 10 years, and is why I am the best choice at this time.
Hepburn: Everything I do is rooted in hope, love and my belief in the power working people have when we stand united and take collective action. When we transcend our differences to collectively fight for the things that directly affect our quality of life, we all win. I believe that public service shouldn't be about lying to get elected, political parties, family dynasties or who has the most money. Public service should be about leading by listening, leading by serving, leading by doing the work. I am in this fight to be your partner and I will lead with you.
As for their opinions on the chaos enveloping City Hall regarding former Police Chief Art Acevedo and accusations of corruption between the parties, this is what each candidate had to say:
Watson: I believe that it is important to understand that no one person is bigger than the position itself. Unfortunately, styles of leadership play a big part in success in any job – more importantly your success in a public safety job in the City of Miami. Because the city police chief is a department director like any other department and works for the manager, if the manager loses confidence, so will the political leadership. I'm not sure anything has been substantiated regarding corruption. Therein lie the dynamics and the narrative regarding the chief. The chief went out publicly and professed that things existed that he did not make his immediate superior aware of.
King: It is my belief that much of the chaos at City Hall is a result of too much testosterone on the dais. As the only female commissioner, I would work to bring decorum and civility to our city commission.
Hepburn: The decision to bypass the designated interview selection process to hire the former police chief was flawed, not transparent for our residents and unacceptable. The corruption that is currently taking place within our city government needs to be addressed and reform is still needed. I will use my voice and the power of authority hopefully given to me by the voters of our district to push forward some of the reforms that were initiated by the former chief and to hold our government accountable for their actions.
As the candidates turned in their answers for the questionnaire, the Florida Bulldog published an article on Watson's debt troubles from 10 years ago, which included two unsuccessful bankruptcy protections, falling behind on more than $1 million on his home mortgage, not being able to pay a $129,284 civil judgement and owing $26,933 in income taxes to the IRS. Financial issues that were unreported, but have since been resolved.
Watson, 63, told the news outlet he doesn't see why those issues should hinder his chances in the race: "We just had a president who had a bankruptcy on more than one occasion."
In fact, this is not uncommon. Elected officials frequently face financial issues on the road into politics. For years, Sen. Marco Rubio struggled with student debt, mortgages and an extra loan against the value of his home totaling hundreds of thousands of dollars until 2012, when a publisher paid him $800,000 to write a book about growing up as the son of Cuban immigrants, The New York Times reported. District 7 Commissioner Raquel Regalado lost her home in 2014 to foreclosure and told the Miami Herald she had to decide between paying the mortgage and funding her daughter's annual $50,000 behavioral therapy.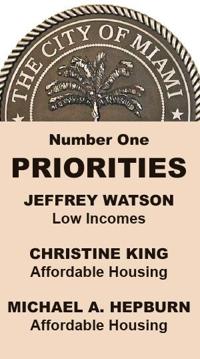 After publicly pledging not to run for a full term when he was appointed to the seat vacated by Keon Hardemon in November 2020, Watson reversed course to run for the seat. The economic development consultant and former aide of President Bill Clinton is married with two children and has a Bachelor of Science in accounting and finance from Florida State University. As of Oct. 18, he has raised $250,000, and his top three endorsements are former U.S. Rep. Kendrick Meek, Rev. Carl Johnson of 93rd Street Community Baptist Church and Liberty City pioneer Nancy Dawkins.
King, 55, has been CEO of the nonprofit MLKEDC for the past 11 years, which is currently chaired by Billy Hardemon, Keon Hardemon's uncle. Raised in Liberty City, the practicing attorney is married with three children and obtained her law degree from Nova Southeastern Shepard Broad School of Law after earning a bachelor's degree in public administration at Barry University. As of Oct. 1, she has raised $239,480. Her top three endorsements are the current District 3 commissioner – Keon Hardemon – Miami-Dade County Mayor Daniella Levine Cava, and unions such as the South Florida AFL-CIO and AFSCME.
A graduate of Florida International University, with a Master of Science in higher education administration and Bachelor of Science in sports management, Hepburn, 39, is a nonprofit executive and youth mentor living in Belle Meade. He previously ran for the Democratic Congressional District 27 seat. As of Oct. 16, he has raised $40,414. His top three endorsements are The Collective PAC, Way To Lead PAC, and civil rights and criminal law attorney Melba Pearson.
Early voting begins Oct. 23; voters also have until that day to request a mail-in ballot. Seven early voting sites will be open across the city:
• Allapattah Branch Library, 1799 NW 35th St., Miami, FL 33142
• Hispanic Branch Library, SW 1st St., Miami, FL 33135
• Lemon City Branch Library, 430 NE 61st St., Miami, FL 33137
• Miami City Hall, 3500 Pan American Dr., Miami, FL 33133
• Shenandoah Branch Library, 2111 SW 19th St., Miami, FL 33145
• Stephen P. Clark Government Center, 111 NW 1st St., Miami, FL 33128
• West Flagler Branch Library, 5050 West Flagler St., Miami, FL 33134
---
The Miami Times is the largest Black-owned newspaper in the south serving Miami's Black community since 1923. The award-winning weekly is frequently recognized as the best Black newspaper in the country by the National Newspaper Publishers Association.