At least 11 dead after partial building collapse near Miami: Live updates – CNN
17 hr 2 min ago
Key things to know about the condo collapse investigation so far
From CNN's Hollie Silverman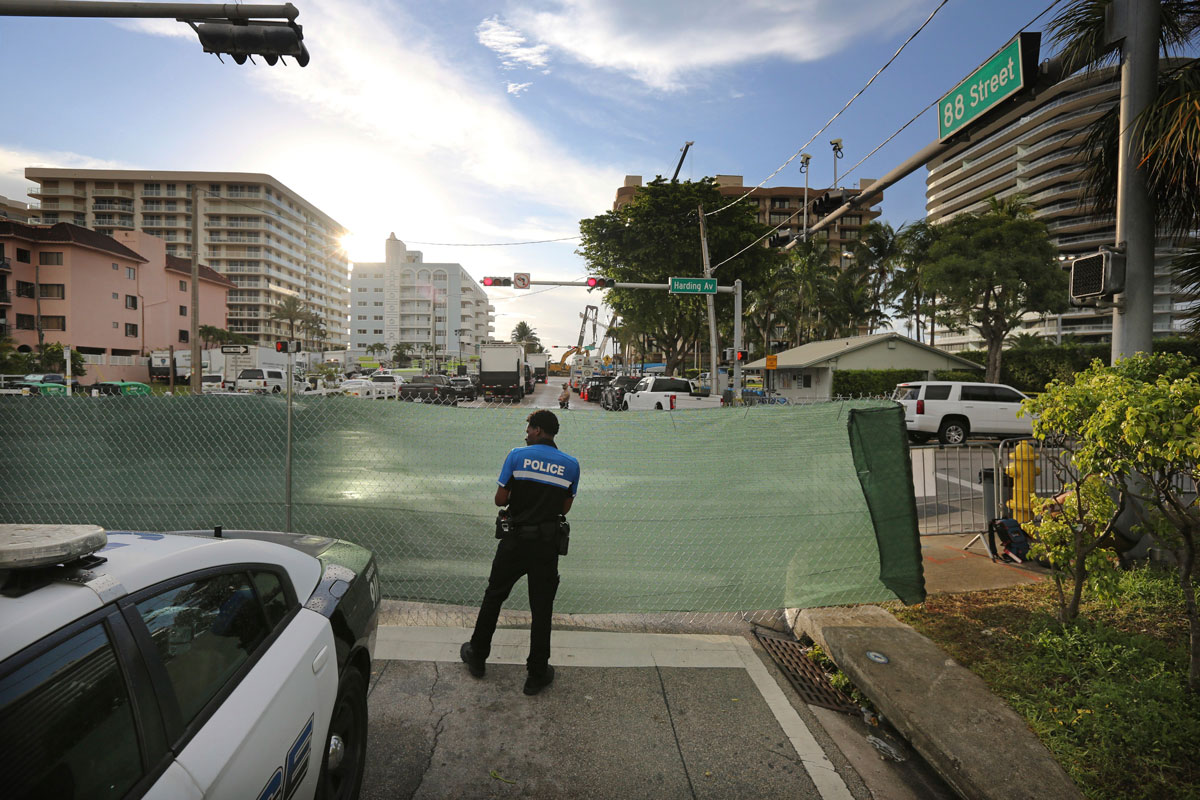 City officials say the cause of the partial building collapse in Surfside, Florida, is still unknown, but engineering reports, researchers and residents have shed light on the integrity of the structure as rescuers continue to race to find survivors.
At least 10 people are dead, 151 are unaccounted for and 135 are accounted for in the collapse of Champlain Towers South as of Monday, Miami-Dade County Mayor Daniella Levine Cava said during a news conference earlier today.
Here's what we know about the investigation so far:
2018 report raises alarm: A 2018 report completed by Morabito Consultants, a structural engineering firm, "detailed significant cracks and breaks in the concrete," a statement from the firm said Saturday. The group said it provided an estimate to "make the extensive and necessary repairs" to the condo association. The report didn't indicate whether the structure was at risk of collapse. Morabito was again retained by the condominium association in June 2020 for the building's 40-year repair and restoration process, according to the statement.
At the time of the collapse, there were roof repairs taking place, but concrete restoration had not started, the firm said, adding that it "exclusively provides" engineering consulting services and does not provide construction-related services.
"We are deeply troubled by this building collapse and are working closely with the investigating authorities to understand why the structure failed. As we do so, we also continue to pray for all those impacted by this tragic event," the firm said in the statement.
A researcher says condo showed sings of sinking in 1990s: Shimon Wdowinski, a professor with Florida International University's Institute of Environment, told CNN he determined in a study last year that the Champlain Towers South condo showed signs of sinking in the 1990s. The condo had a subsidence rate of about two millimeters a year from 1993 to 1999, according to his study. While Wdowinski said that this sinking alone would likely not cause the condo's collapse, he said it could be a contributing factor. "If one part of the building moves with respect to the other, that could cause some tension and cracks," he explain
Residents raised concerns over tremors during construction of nearby building: Eliana Salzhauer, one of three town commissioners for Surfside, Florida, told CNN Sunday night that survivors of the collapse she encountered have said they felt shaking during construction on a nearby building in recent years. Salzhauer said some of the survivors told her they were bothered by the shaking of their building that occurred while a high-rise was being constructed next door. They told her there was shaking, cracking and water leaking in the garage, she said.
Local leaders are now reviewing building protocols: The deadly collapse prompted nearby cities and towns to review their building recertification protocols. Less than five miles north of Surfside, the city of Sunny Isles Beach will begin sending teams to inspect buildings Monday after announcing Saturday that they would modify the existing process for 40-year recertifications of buildings, Vice Mayor Larisa Svechin told CNN.
On Friday the city of Miami sent a letter urging buildings that are over six stories and more than 40 years old to get an inspection from a qualified structural engineer, Stephanie Severino, Director of Communication for the City of Miami told CNN. They are being asking to respond within 45 days with any potential structural concerns.
Boca Raton Mayor Scott Singer told CNN in an email Sunday that his city is creating "more stringent standards for certifications of buildings" following the Surfside collapse.
Read more about the investigation here.
CNN's Tom Foreman reports the latest details about the condo's structural integrity before the collapse:
18 hr 19 min ago
10th Surfside collapse victim was found during de-layering effort, official says
From CNN's Gregory Lemos 
The assistant Miami-Dade Fire and Rescue chief said the 10th Surfside, Florida, collapse victim was found during the de-layering effort.
"That person was processed, removed from the pile, and the operation continued," Assistant Miami-Dade Fire Rescue Chief Raide Jadallah said Monday during a news conference. 
Jadallah responded to speculation that the search and rescue effort should become search and recovery after a certain amount of time saying that line of reasoning "is far from the truth." 
"That is far from the truth. In the end there are numerous variables and facts. It's not based on opinion. It's not based on time," Jadallah said, adding that they will make the decision collectively after considering all options and all information. 
The official said first responders are using heavy machinery to remove debris and said the teams will be switching positions later Monday "as a result that most of the individuals have come up upon larger concrete areas and that will require heavy machinery."
18 hr 28 min ago
Police: No human remains that have been recovered in Surfside have been identified yet
From CNN's Rosa Flores
Only the bodies of the victims that have been recovered from the scene of the Champlain Towers South condo collapse in Surfside have been identified by authorities, Freddy Ramirez, Director of Miami Dade Police Department told CNN.
None of the human remains that have been recovered from the scene have been identified, Ramirez said. Ramirez said he does not know how many human remains have been recovered from the rubble.
18 hr 29 min ago
Surfside mayor promises 100% transparency about past building inspections
From CNN's Amanda Watts 
Surfside Mayor Charles Burkett said the city is working to get all the files about the building posted to the city website, so the public can see it. "We will be 100% transparent," he said.  
"We directed our staff to go ahead and scan every shred of documentation the town of Surfside has. Which includes going to our archive storage sites. We've got boxes and we are sending those boxes to a printing scanning company and those documents will be available for your review," Burkett said. 
Andrew Hyatt, Surfside Town Manager, told CNN "we are looking internally, going to be making some plans going forward, to not only look at this building, but possibly others."
18 hr 55 min ago
Key to investigating Surfside building collapse "lies in the rubble," Miami-based engineer says
From CNN's Curt Devine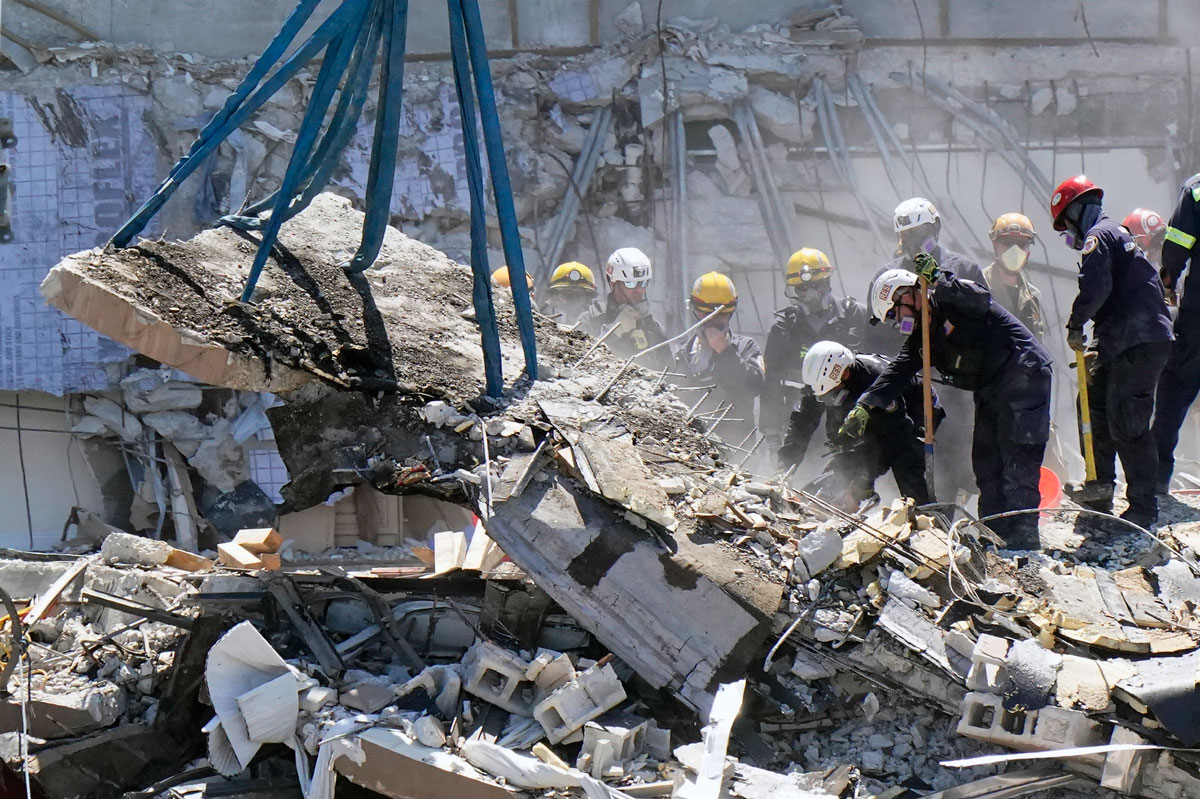 Sinisa Kolar, a Miami-based executive with the engineering firm The Falcon Group, tells CNN that ultimately forensic engineers will need to examine the columns on the ground floor for indications of the cause of the collapse. He said they will need to test samples of concrete to examine its condition and cross-reference that with structural drawings.
"All this data that is being thrown around in the right now is just one piece of the puzzle that the biggest piece of the puzzle, the key element to this investigation, in my opinion, lies in that rubble, in those columns and condition of the structural elements," Kolar said. "And potentially that's what I give us some sense of why this has collapsed."
Kolar has reviewed the 2018 report on the condition of the Champlain Towers South condo building that found "major structural damage" in parts of the tower. While that information is relevant to the investigation, Kolar said he doesn't believe that the issues flagged in that report would be sufficient to cause a collapse.
"When somebody shows us damages and corrosion and exposed rebar on the underside of the balcony, that's a horizontal element that basically supports only that floor. So, if there is a collapse of a balcony, that most likely would not cause any additional damage to the rest of the building except for that particular balcony." 
"Some of these damages as depicted in 2018 report — although problematic and definitely should have been addressed — in my opinion were unlikely to cause the collapse of the entire building … It's a giant leap from the damage depicted in that report to the collapse of the building and there are a bunch of dots missing to connect the two," he said.
Kolar noted that the process to address repairs for this type of inspection is time consuming and costly, "Once the engineers present this report to the association, the process begins."
The condo association would need to secure funds and then an engineering firm would prepare a scope of work, put the project out for competitive bidding among contractors, negotiate the contract and obtain permits.
He said the condo association probably could have started repairs in 2018 and in hindsight they should have done this sooner. "But if tomorrow somebody comes to you and says, 'Hey listen, you're going to be responsible for paying $50,000 for repairs,' you're going to be like, 'what is this for and where do I find $50,000 out of the blue?'" 
Kolar said he actually went to the Champlain Towers South condo a few years ago to meet with the management for a special project. He said the meeting was canceled but he did look at the building.
"I noticed some spalling on the balconies and all of that. Some of that was visible from the ground. I wouldn't say that that's unusual," Kolar said.
"Even on a newer building we see some corrosion, but not every single piece of corrosion we see carries the same weight," he said. Kolar said stucco cracks and peeling paint have "nothing to do with… the stability of the building." 
19 hr 7 min ago
Fire chief describes careful rescue efforts: "Every time there's an action, there's a reaction"
From CNN's Elise Hammond
Search and rescue efforts are complex and will take time, Raide Jadallah, the assistant fire chief of operations for Miami-Dade Fire Rescue, said on Monday, describing the dangerous situation crews are faced with as they look for survivors.
"The situation at hand is we're not lifting floor by floor. We're talking about concrete. We're talking about steel. Every time there's an action, there's a reaction," Jadallah said.
He said on Sunday as crews were looking through the rubble, a rescuer fell 25 feet down the pile of collapsed building.
"That's a perfect example of the situation we're dealing with. This was, again, witnessed by the family members themselves at the site," he said. "It's not an issue of we can just attach a couple of cords to a concrete Boulder and lift it and call it a day."
Jadallah described the rubbles of concrete being the size of basketballs and baseballs. He said the rescue efforts are slow-moving because safety for crews and for the victims themselves are at the forefront.
"It's going to take time. It's not going to happen overnight. It's a 12-story building. It's going to take some time," he said.
19 hr 7 min ago
Search and rescue effort at collapse site will grow in size and intensity, mayor says
From CNN's Gregory Lemos
The mayor of Surfside told reporters Monday the search and rescue effort at the Champlain Towers South collapse will grow in size and intensity in the coming days. 
Surfside Mayor Charles Burkett said he spoke with the commander of the Israel's National Rescue Unit. "The Israeli commander told us that the teams that are out there are working fabulously together. There is a joint effort, there is camaraderie, and everyone has the same goal, which is to pull people out of there. He also added that the intensity and the numbers will continue to increase, which I was very interested to hear," Burkett said during a news conference Monday.
Israel's National Rescue Unit arrived in Surfside Sunday to assist with the search and rescue efforts. 
19 hr 18 min ago
Here's how search and rescue crews have been working around the clock
From CNN's Amanda Watts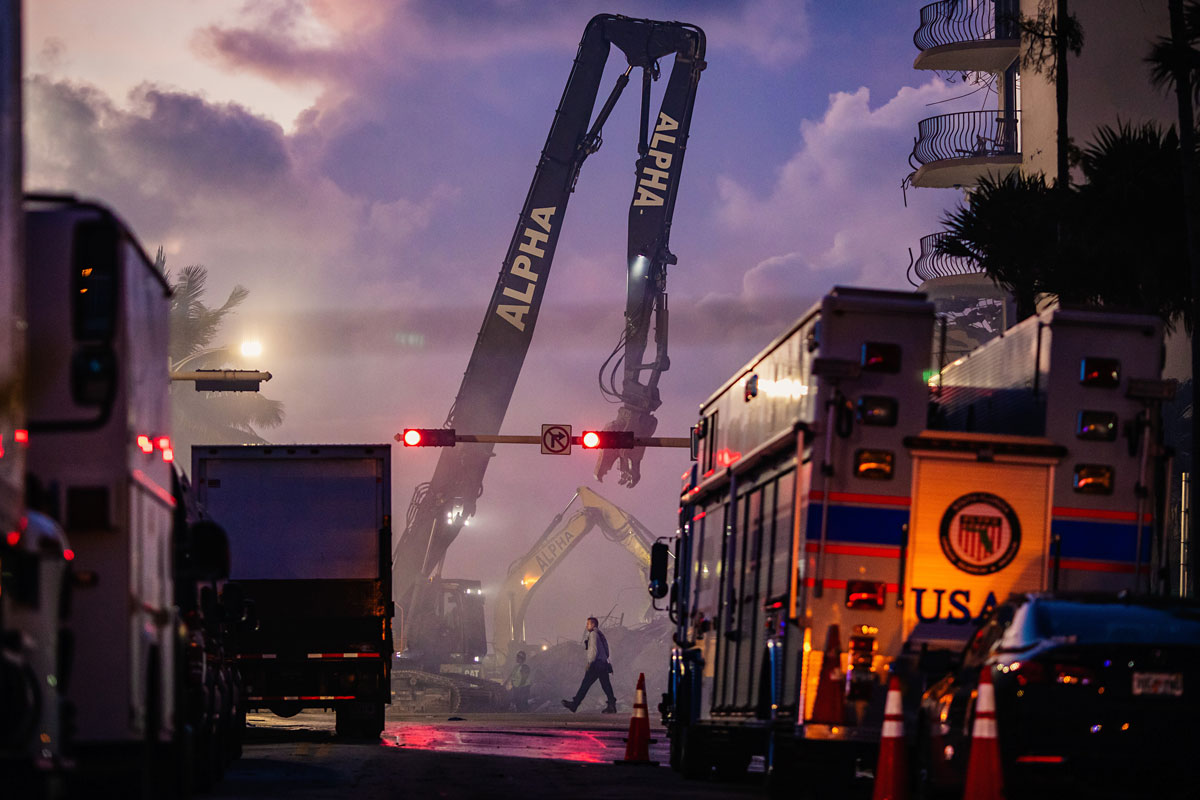 Florida State Fire Marshal Jimmy Patronis said search and rescue workers are working in 12-hour shifts, with few breaks. 
Speaking to reporters at a news conference, Patronis said "they're working around the clock, they're working 12 hours at a time, midnight to noon, noon to midnight."
"They come from Tallahassee, they come from Orlando, they come from Tampa, they come from Israel, they come from Mexico, they come from Jacksonville, they come from Fort Myers, they come and they leave their families to come and work around the clock," he said. "The reward is the life they save." 
"And they don't stop. They hardly rest, they come off for about 45 minutes, they check their pulse, they check their O2 levels, and they go back to work because that's what they do, they work to save lives," Patronis said. 
Patronis thanked local state and federal assets who have come in to help with the rescue efforts.
"We've created a city inside of a city," Patronis said. 
19 hr 25 min ago
Surfside mayor says seeing 12-year-old girl sitting alone broke his heart
From CNN's Gregory Lemos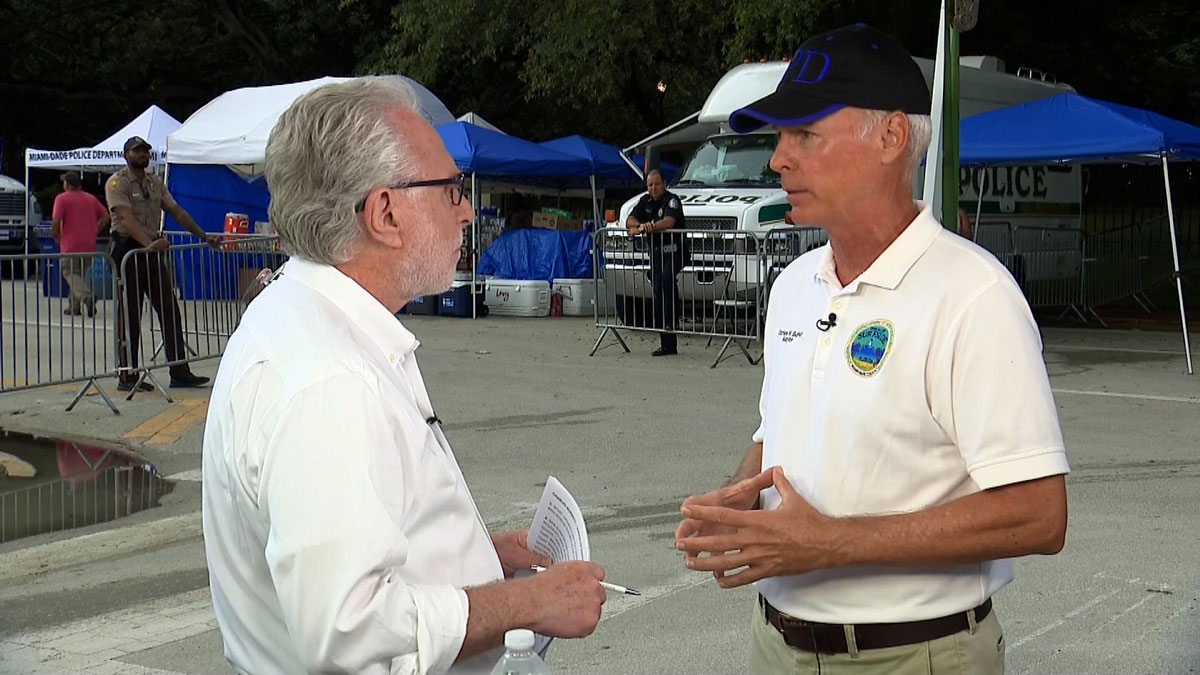 The mayor of Surfside, Florida, described a chance meeting with a 12-year-old girl at the Champlain Towers South collapse site Sunday night that "hit me the hardest." 
"Last night, when I did my late night pass at the building there was little girl. She's about 12 years old and she was sitting by herself," Surfside Mayor Charles Burkett told CNN's Wolf Blitzer Monday. 
Burkett said he knew the little girl from a previous encounter and understood that either her mother or father was a victim of the Surfside collapse. Burkett said he found her sitting near the rubble pile scrolling through prayers on her cell phone "all by herself."
"She was reading a Jewish prayer to herself, sitting at the site, by where one of her parents presumably is," the mayor said. 
"And that broke my heart. And I'm going to find that girl today and I'm going to tell her that she just needs to come to me for anything she needs because that's the face of this problem, of this disaster right here – that little girl," Burkett said. "By herself, completely lost, sitting there, on the deck, looking at the pile of rubble imaging one of her parents is in there. That should never happen."
Burkett said 240 men and women are working on the pile right currently, "hand picking that stuff out. We've got cranes, we've got gigantic cranes lifting off huge slabs," Burkett said.
The mayor said he still has hope and is "expecting miracles."